Me and John have been working hard at training lately. We had a fairly epic morning. I made us a couple of horses and we were going to go for a ride to keep us fit but being a boy John insisted on some kind of cavalry combat. I pointed out that we never fight people by jousting but even superheroes love action films and he wanted to pretend to be a knight. He made a sw ord and shield out of ice (as below) and I made my usual paper ones solid.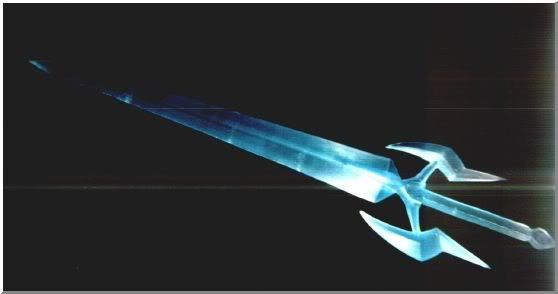 We played around with that a lot and then went swimming and then sailing. I do have issues with the sea. I really love boats and anything to do with them, in fact one of the best days I ever had involved a boat. However I cannot let my paper get wet. It is a good job then that John can turn any bit of water into ice and so as well as also loving the sea he can ensure that my papers are kept safe inside a cocoon of ice whenever we train in water. My boat was a bit like this below attempt. Only mine becomes a real boat.
So that was this morning.
I have gone a little bit stir-crazy* lately with baking. The other day I made a late night cheesecake and then had too much mix left over so me and John sat and ate all the left overs up with a spoon whilst watching Big Bang Theory. Good times.
Tonight though I made a whole new meal that was like a taste explosion in your mouth. I made it up mostly so it doesn't have a name other than 'a chilli, creamy mussels pasta thing.'
It was a beautiful yellow colour and had a slightly spicy but creamy taste. I made a paste of lots of garlic, pepper, mushrooms, chilli powder and paprika and tomatoes. I added a tiny bit of salsa to all that as well and then some turmeric. All of that was fried in some good quality olive oil. Then when it was a reddish orange colour I added a big box of mussels. (I had some twirly pasta cooking with oil and salt in the water whilst all this was happening) I then added a load of cream and some pepper of the grinding kind and when the pasta was ready I threw all that in as well. Then served it with spinach leaves on the side for a crunchiness to balance the softness of the pasta. Oh yes! Win.
I know I said this wasn't going to be a cooking blog a while back, but hey, I love cooking! Really I do. It's an art form and so much fun. I'm sorry I didn't take photos of the meal. I wanted to eat it far too much!
*That was a pun
Also I am thinking of doing a regular thing every Sunday (yes that's tomorrow) where I make a treasury and then feature some of the best items here. For those that don't know a treasury is a collection of pretty shiny things that you can make out of pretty shiny etsy items. You put them together in matching colours and theme. I love doing them! I think I'm pretty good at them actually even though I know it is rude to boast. But it's the internet! It's full of boasting, so don't judge me. Judge me tomorrow. :)